Our Reputation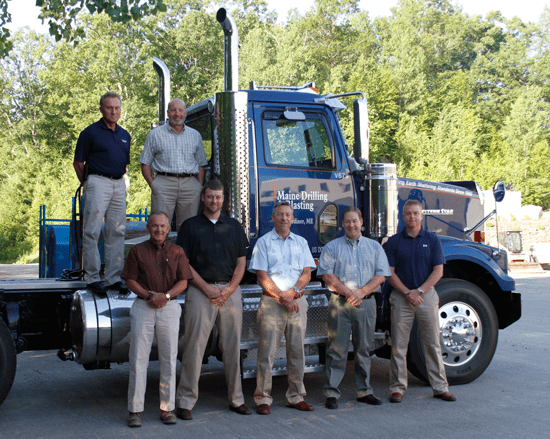 Maine Drilling & Blasting has earned our reputation as one of the safest, most experienced rock blasting and drilling companies in the Northeast and Mid-Atlantic areas. During the past 50+ years, we've performed over two million controlled blasts for highways, site development, quarries, houses lots, utilities and marine work.
Extensive Experience
We've drilled some of the most aesthetic presplit faces, helped plan and develop over 180 quarries, installed rock anchors over water, under stadium seating and 50 feet above highways, and mechanically broken hundreds of thousands of cubic yards of rock with our hoe rams. We have extensive experience in projects from wind farms to ski-slope development.
Specialty Services
Recognized as an industry leader in drilling and rock blasting services for the construction and quarry markets, we also offer a variety of specialty services throughout the Northeastern United States:
Foundation Services
Hoe Ramming
Rock Anchors
Engineering
Public Relations
Pre-Blast Surveys
Packaged Explosive Distribution
Quarry Planning & Quarry Blasting
Leading Industry Technology
Industry Leading Technology
In 2001, we established an Engineering Department, which has since enabled our blasters and drillers to rely on the most advanced topographical information, computerized simulations, laser profiling of rock faces, and bore-tracking. Fully staffed, this Department also provides project and customer support in the form of defining scopes, volume surveys and value-added engineering.
In 2004 we became the first contractor in the country to construct and operate its own bulk explosives blending and loading plant. This allows us to maintain excellent quality control, customize blend for various climates and jobs, and offer our customers the best product at the best prices. In 2006, we took our bulk program modular improving the company's commitment to local market areas and quality customer service. In 2008 we developed a proprietary micropumper delivery system making bulk even more accessible for small construction projects. Learn more (PDF) »
Among drilling and blasting companies, Maine Drilling & Blasting is known for its world class maintenance on drills. Our Equipment Service Group provides industry-leading service, knowledge, and technology to our fleet of drills and hoe rams, and their operators. Our equipment is state-of-the-art and maintained with precision.
Driven by safety-consciousness and the demands of being a good neighbor, Maine Drilling & Blasting has increased its investments in state-of-the-art safety technologies, public relations programs and community outreach. Key technical managers on staff train in-house personnel, as well as educate front line responders, local officials, our customers and the general public.