It's a Mindset
MD&B Safety Mission Statement
"We are committed to providing the industry's safest work environment. Through our policies, training and accountability measures, we pledge to provide our employees, customers and the general public with the highest level of safety while maintaining an economic advantage and performance standards second to none in the drilling and blasting industry."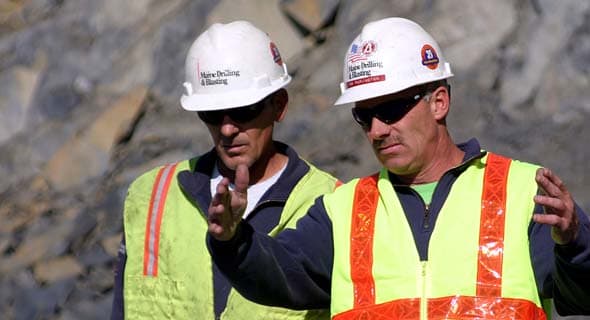 Safety. Safety. Safety.
We talk about safety a lot. With our people, with our customers, our blast neighbors, with news reporters. Safety's the bedrock of our training, the cornerstone of our technology. Our employees serve on safety committees led by a safety department and staffed by certified safety specialists. It's a commitment that serves us well, providing our customers, with peace of mind. And that's priceless.
"Safety Starts with Me" … everyone who wears a Maine Drilling & Blasting hardhat knows it's more than a slogan. It's who we are. A commitment - a consciousness - an individual responsibility. From the top down and the bottom up, at Maine Drilling & Blasting safety is everyone's specialty.
We call it "Heads Up!" Every morning every job site starts with a "hazards analysis" briefing by the foreman: "What risks do we face today? What safety measures must we take?"
And beyond the work site, you'll find our crews in the classroom, honing their skills as blasters and drillers. We make sure they "graduate" with an advanced "degree" in safety. It's the basis of our curriculum, which includes:
Dupont's Safety Training Observation Program (STOP)
MSHA Part 46 Training
OSHA 10-hour Training
Job Hazard Analysis
Division Meeting Safety Topics
Daily Checks and Lessons Learned
In addition to training specifically related to safety, an array of mandatory, formal job skill training courses ensures best practices on the job. Simply put, Maine Drilling & Blasting has the best trained and most educated drilling and blasting workforce.
For some companies getting together refers to the annual picnic. At Maine Drilling & Blasting, we do something special. Every year in March we hold a company-wide Safety Meeting. From laborers to executives, we all turn out. Safety's the subject, the only subject.
Get a FREE Drilling & Blasting Quote
MD&B is a provider of drilling, blasting and related specialty services in the New England, Mid Atlantic and Southeast areas.